CRMFusion's Demand Tools made the list! The Better Partners team built The Better List to help you find the best possible tools for your business, while on a budget. Our tech geeks did the research for you, and based our recommendations on six parameters based on capability, cost, and customer service (check out this blog to get the full scoop on recommended Salesforce tools).
CRMFusion describes DemandTools as a suite of 10+ individual data quality modules to control, standardize, duplicate, import, and generally manipulate Salesforce data.
DemandTools made The Better List for a number of reasons. It hits the Better mark in all of our defined categories. The only downfalls we can think of are that it's Windows-only (not a web-based app) and that managing large amounts of data can be slow (set it to work, then go to lunch). If you've had Salesforce for a year or more, we'd consider yours a "mature" environment, which could benefit from this tool.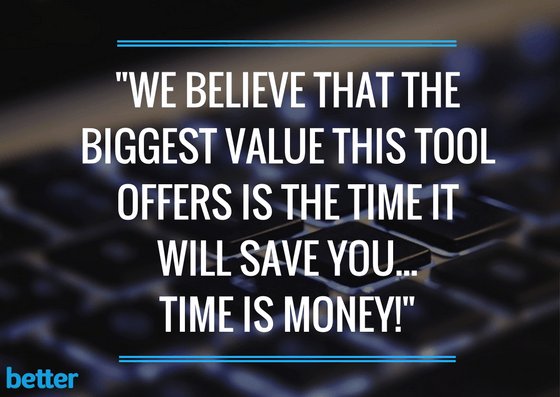 How DemandTools Performs Based On The Better List Criteria:
Feature Rich Configuration
This is the most feature-rich data manipulation tool (for the price) that we've found. It works with all editions of Salesforce, including Professional.
Some of our favorite features include:
Manage complicated workflow actions like find and replace
Easily clean up data from an old system when transferring to Salesforce
Schedule DemandTools to run unattended. For instance, you can check your data for duplicates once a month without ever hitting a button
Cost/Benefit
DemandTools is priced aggressively for small and large businesses – check their tiered pricing structure to see where your business will fall. Oh, and non-profits can access DemandTools for FREE.
We believe that the biggest value this tool offers is the time it will save you. Processes that used to take us 2 hours (specifically importing and exporting data for manipulation) now take 15 minutes. Time is money!
Look Before You Leap
CRMFusion offers a free trial with these standards: "The standard DemandTools trial is 5 days long and is fully functional except for the fact that duplicates may only be found in the trial version, and not actually merged together at the Salesforce.com data center. The trial time period and functionality is controlled by our authentication servers, you may request trial extensions and full functionality testing without changing client software by contacting our sales department."
Multi-User Capabilities
If you have less than 100 Salesforce licenses in your organization, you simply pay per user. More than 100 Salesforce licenses? You'll qualify for a named license from DemandTools. Check out more details on the annual pricing structure on the CRMFusion website.
Strong Community Value
You're not a little fish in the great big customer service sea with DemandTools. They've built a great customer forum where you can get opinions and advice from other users. CRMFusion also offers DemandTools users FREE online training sessions and live webinars monthly.
Responsive Customer Support
We give Customer Service 5 stars for being extremely responsive. Online, DemandTools offers a searchable database of frequently asked questions. You can also choose a self-help option, or open a case with the click of your mouse. And, if you like, there's still an email address and phone number to connect with CRMFusion.
Is DemandTools Right For You?
We optimize Salesforce in many different ways for many different businesses. The same goes for implementing DemandTools. If you find yourself or your team spending a lot of time trying to integrate Excel spreadsheets with Salesforce, DemandTools might be a huge time saver for your business. 
If you'd like to learn more about how DemandTools could increase productivity and help your team save time, connect with our team at Better Partners. And, to learn about more of our favorite process and productivity tools, check out The Better List.